32025 Pacific Hwy S Federal Way, Washington 98003
206.429.2093
Operating Hours: Monday-Saturday 6:30AM-10:00PM
Breakfast served Monday-Saturday 6:30AM-10:30AM
Federal way WA Catering
Get out of the kitchen and enjoy the party. Below is a sampling of what you can order to feed your hungry crew whether it be a large family get-together, work party, dress rehearsal, or any local event we have you covered. for Delivery or Pickup.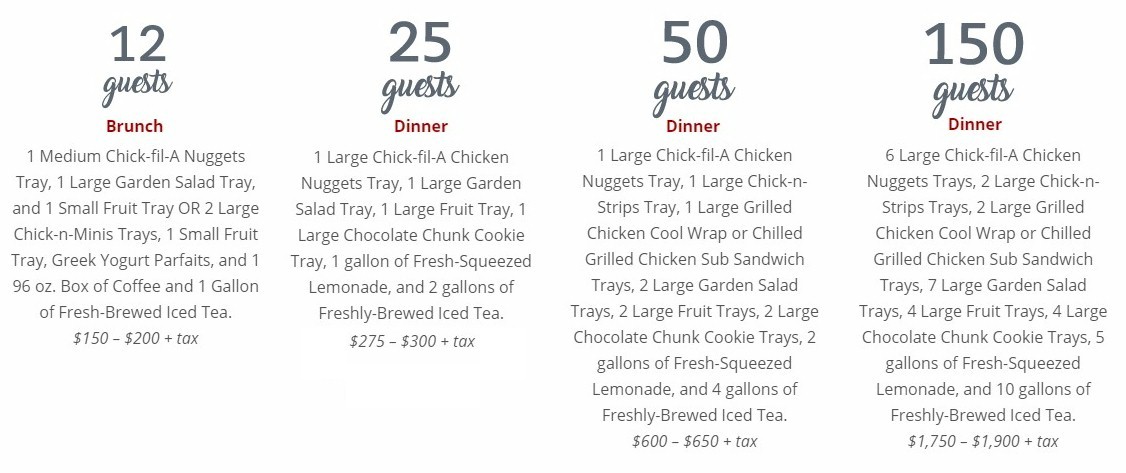 Start your day with Chick-fil-A
Breakfast — The Most Important Meal Of The Day
Take the morning off and let us serve you a delicious meal!
Available between 6:30 and 10:30, Monday through Saturday.
Working at Chick-fil-A Federal Way
At Chick-fil-A, we believe in providing our guests the best Restaurant experience we can. Our team prides itself on providing great tasting food and a comfortable environment in which to enjoy it.
Perks for working at Chick-fil-A Federal Way are Sundays off, school scholarships, career advancement potentials and much more. A Significant majority of our owner/operators started off as crew members. Join us and see your career flourish.
WHY NOT CONSIDER JOINING OUR OUR INNOVATIVE & HIGH PERFORMING TEAM?
"My goal is to continue the tradition of serving our local Federal Way guests and community, in a way that is personal & memorable to each and everyone."
WHAT IS CHICK-FIL-A ONE™?
CHICK-FIL-A ONE™ IS OUR TIERED MEMBERSHIP PROGRAM THAT GIVES YOU THE ABILITY TO EARN POINTS WITH EVERY PURCHASE.
YOU CAN BECOME A MEMBER BY CREATING AN ACCOUNT ONLINE OR BY DOWNLOADING THE CHICK-FIL-A® APP THROUGH THE GOOGLE PLAY OR APP STORE.
EARN POINTS FOR EACH DOLLAR YOU SPEND WITH US TO REDEEM FOR LATER PURCHASES. JUST SCAN THE APP AT THE TIME OF PURCHASE OR TRY OUR MOBILE ORDERING TO BEGIN EARNING POINTS!